about
location
amenities
developer
project team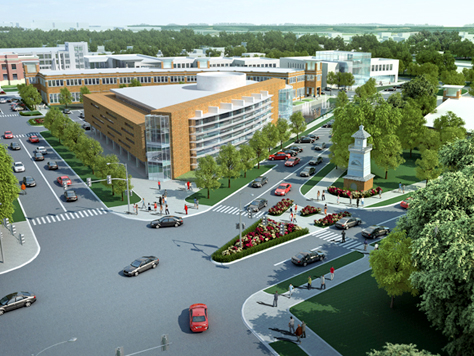 Village on Main is the newest addition to Jenks, America
A multimillion dollar mixed-use lifestyle development, Village on Main, offers distinctive eateries, lush streetscapes, pedestrian paths to both entertainment and office venues and modern housing.
Adjacent to both the Arkansas River and Main Street Jenks, Village on Main is strategically located to incorporate the classic charm of the city with unique opportunities of river development.
Jenks, OK
Jenks, Oklahoma is a fast growing suburb community of the larger Tulsa metro area across the Arkansas River and connected to the other communities via the Creek Turnpike and Highway 75. The Jenks Market area includes a 3rd Quarter report, 2008 population of 83,898 with 8.21% growth in the next five years. Jenks Public School district, which includes both Jenks proper and South Tulsa, has an average household income of $101,000 and is 76.7% college educated.
Village on main takes advantage of a prime opportunity to access a strong population base with favorable income and growth factor and an explosion of traffic to generate retail growth.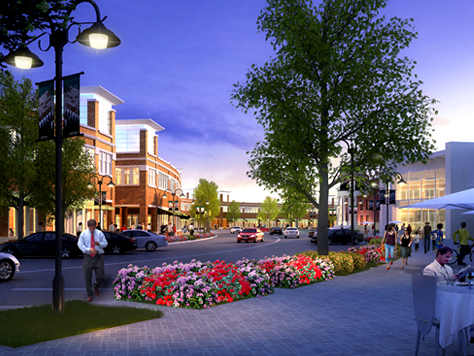 Contemporary amenities.
Progressive ideals.
T
he high-quality 150,000 sq. ft. of retail and restaurants, 100 plus units of urban residential living, 120,000 sq. ft. of professional office space, 22,000 sq. ft. Hillcrest Utica Park healthcare facility, 100 room plus hotel and community events center combines traditional Main Street with the "new urbanism" development concept. Because Jenks is only 20 square miles in size, the developers of Village on Main had to rethink common suburban development to conserve space. This new mixed-use design model is a smart-growth development strategy that has proven successful both nationally and globally. Village on Main essentially returns Jenks to a sense of place where people live, eat, work and play…all within walking distance.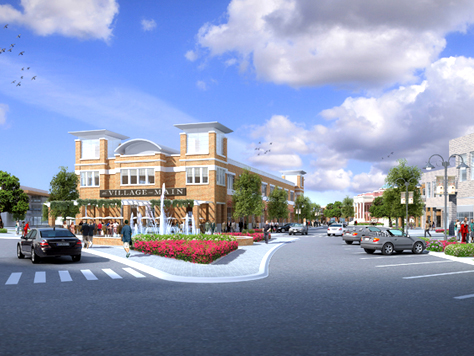 Duane Phillips
Duane Phillips, owner of Village on Main, is also the owner of Oak Properties Development Company, Phillips Construction LLC and co-owner of the architectural and engineering firm of Phillips Slaughter Rose LLC. Upon graduating from Oklahoma State University, Duane Phillips began enhancing the cityscape of Tulsa. Duane is a registered architectural engineer by trade. He began his career in the early 1980's as a structural engineer and project manager. He built upon his early successes and established his own construction company, which was followed by the creation of his own development company.
Duane has developed, designed and built numerous projects including Tulsa Fertility Clinic, Estate Home Development of Stone Bluff in South Tulsa and many retail developments in the area. Currently, Oak Properties is in the process of completing the Cherry Street Ridge Development on historic Cherry Street. In addition to these professional endeavors, Duane served as an associate professor in the School of Architecture at Oklahoma State University for 6 years. Today, Duane's daily project involvement is largely diverse and includes engineering practices, retail and land development.
A native of Sapulpa and a graduate of Sapulpa High School, Duane has a BS in Architectural Studies and a Masters Degree in Architectural Engineering from Oklahoma State University. He lives in Jenks with his lovely wife of 25 years, Janet, and their son and daughter. Besides cheering his beloved OSU Cowboys on to victory, Duane enjoys fishing and traveling.
Ben Edwards
PROJECT MANAGER, VILLAGE ON MAIN
Ben Edwards has been involved with more than $400 Million of construction projects in Oklahoma, Texas, New Mexico and California. Two notable projects are the "Inn of the Mountain Gods" a hotel, casino, resort in the mountains of Ruidoso, NM and the "BOK Center" a world class multi-use arena designed by Cesar Pelli. With project experience including retail, multi-family mid-rise residential, hotel, restaurant, gaming, public assembly, ranging in size from $1 million to $150 million, his expertise aligns perfectly with the future of Village on Main. Ben moved back to the Tulsa area 3 years ago and currently lives in South Tulsa. He is heavily involved with Tulsa Young Professionals organization and enjoys fishing and the outdoors.
Duane Phillips
DEVELOPER, VILLAGE ON MAIN
918-299-3040 office
918-289-9007 cell